Featured Plumber
Meet some of your Union Brothers and Sisters and find out how they got involved in the plumbing trade!
Ryan Boggs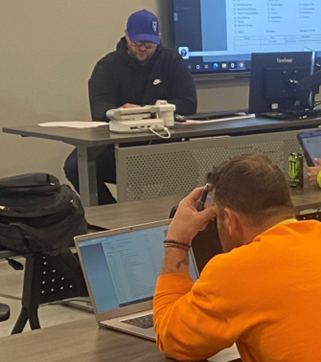 Meet RYAN!
Ryan is currently a Journeyman Plumber – working as a foreman at 1901 Inc. He started teaching for Plumbers Local 75 in the Fall of 2021. Before becoming a plumber, Ryan went to school for computer programming; however, that career "didn't feel like the right path". After taking jobs roofing, he realized that he enjoyed working with his hands. A family friend exposed him to plumbing, and Ryan liked the fact that plumbing is "labor intensive, but also requires critical thinking and problem solving." After working in this trade for many years, Ryan finds that the variety of work tasks and scenarios "really keeps it interesting… I really like that we are on the forefront of water conservation. I like that we are tasked with protecting the public's health and also the state's waterways." Ryan got into teaching in 2018 through Madison Area Technical College for apprentice Blueprint Reading, and recently began teaching this course at Plumbers Local 75. He really enjoys teaching apprentices – "The eagerness and excitement for the trade (and knowledge) is contagious. It's fun going through items with them and seeing the look change on their face from confusion to the 'aha' and confidence moment." In his free time, Ryan likes to go snowboarding in the winter and mountain biking in the summer – "Just going downhill though. There are a lot of places that have ski lifts running for taking your bike up. Apparently, I can't get enough of ski hills, ha!"
Plumbers Local 75 is proud to have Ryan as a member.
Don Brunner
Meet DON!
Don is our most recent elected Business Agent at Plumbers Local 75. Prior to his new position, he was a Journeyworker at J.M. Brennan. Don has also served on the Finance Committee and Executive Board for the Union. Before his career in plumbing, Don graduated from UW-Whitewater and was a manager at Goodyear Auto Service Center. He worked 60-70 hours a week with no overtime. He decided to pursue a different avenue and thought back to when he worked for a General Contractor in college and how much he enjoyed it. He had it narrowed down to becoming an electrician or plumber, and decided on plumber because he is "partially color blind and hates getting shocked." As a plumber, he values the diverse range of work. He says, "…You could work an entire career without repeating 'the same job' for more than a couple months." Don also finds plumbing work gratifying when he can make the "impossible jobs" possible. One of Don's fondest memories of being involved in the Union is when he helped dye the Milwaukee River green for the Bucks Playoffs. He says it's the only thing he let his twin daughters skip school for. In Don's free time, he enjoys coaching his twin daughters' mountain bike team, trap shooting, deer hunting, fishing and camping.
Plumbers Local 75 is proud to have Don as a member.
Elizabeth Schneider
Meet ELIZABETH!
Elizabeth is a Journeyworker at 1901, Inc. and a recent Plumbing Apprenticeship Graduate under the Madison Area Plumbing JAC. Before becoming a plumbing apprentice, Liz was a manager for a local sandwich shop, working long hours for a job she did not care for. After a friend of hers started with a different construction union, she was exposed to the trades and how simple it was to apply. After researching the many options, Plumbing stood out as a career she could enjoy. Not only does Liz love the variety of work, she enjoys working with people who understand the value of "a job worth doing is worth doing well," and protecting the people in her community by providing clean drinking water is definitely worth doing well! When asked about a rewarding experience in her career, Liz says, "I really like working on hospitals. It's kind of cool knowing that doctors couldn't do their job without me." These days, free time for Liz has taken on new meaning, as 6 months ago she became a mom! Aside from spending time with her husband and baby girl, Liz enjoys gardening, baking and hiking.
Plumbers Local 75 is proud to have Elizabeth as a member.
Antonio Balasch
Meet ANTONIO!
Antonio is currently a 4th year apprentice working at Ideal Mechanical. Before becoming a plumbing apprentice, Antonio was doing residential carpentry. Seeing plumbing systems installed on those job sites and not understanding them piqued his interest and curiosity in this trade. Aside from being part of a union and a profession that requires a license, he is most proud of being part of constructing or remodeling buildings that will be used for schools or businesses like healthcare facilities. Antonio recalls being selected to attend the UA/MCAA Labor Relations Conference as one rewarding experience so far in his career. "Realizing how important our trade and union is to building the country as well as countless families that depend on our members adds a new level of respect and self-worth to the trade." When asked what he likes to do in his free time, Antonio responded, "Spending time with family and friends. I'm big on throwing parties for UFC and boxing events."
Plumbers Local 75 is proud to have Antonio as a member.