Women in Construction Week
Women in Construction Week is March 6-12, 2022
Meet some of our female plumbers and hear what they have to say about the plumbing profession!
Jessica has been a plumber since 1993. Plumbing piqued her interest while she attended Milwaukee Trade and Technical High School. Her instructor, Mr. Wayne Klopf, made the plumbing lessons exciting.
Jessica says plumbing is "always interesting!" She says she takes pride in the fact that she can "drive all over the Milwaukee Metro Area and see buildings that I built."
What advice would you give to a woman getting into the trades?
"If you like hands on work with constant change and action, you'll like plumbing. When you work really hard for something and you make it happen, it's a great feeling! If I can do it, so can you!"
Melanie B.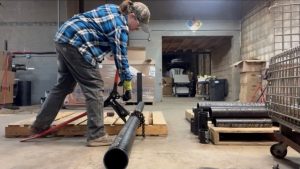 Melanie has been a plumber since 2017. She became interested in plumbing after high school when she worked at a hardware store in the plumbing department.
Melanie likes the plumbing profession because she doesn't sit at a desk all day. She likes to be able to create something with her hands.
What advice would you give to a woman getting into the trades?
"Just go for it. Don't talk yourself out of it. You CAN do it."
Christina B.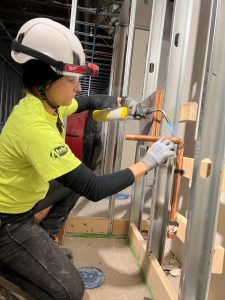 Christina has been a plumber since 2010. Plumbing was not her first choice, after having attended college and changing her major multiple times. Her dad suggested applying for an apprenticeship, and now she is a proud 4th generation union plumber.
Christina loves her career in plumbing because it allows her to be physically and mentally active. She enjoys training apprentices on the job and says, "Watching a new concept or skill 'click' for an apprentice is always a great feeling."
What advice would you give to a woman getting into the trades?
"Every person that starts an apprenticeship is beginning their career in a unique place. Stay focused on the common goal you and your peers have of becoming a plumber." 
Gabriella S.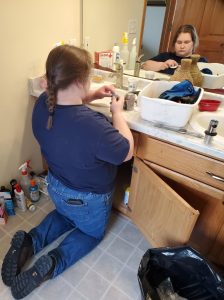 Gabriella has been a plumber since April 2021. She credits her interest in plumbing to her dad, who taught her the basics. "He would always tell me the different jobs he would go on and the stories they would entail, which is the main spark for me entering the trade."
Gabriella likes the different choices within the plumbing field. "With my branch, residential service and repair, you never know what you are going to encounter which makes each day a little different."
What advice would you give to a woman getting into the trades?
"Don't be afraid to do it. Just because it's a male dominated field, women can do things just as good as men do, if not better."
Maureen M.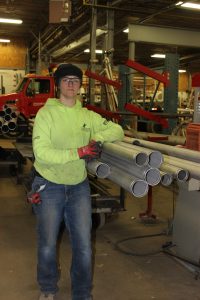 Maureen has been a plumber since August 2021. Job security and
environmental consciousness lead her to plumbing. She "wanted to be in a field that was never, ever going anywhere." Maureen also likes the general knowledge and skills that she's attaining. "It's really awesome to be able to confidently say you understand the requirements and piping for all kinds of water usage." And the "free workouts" her daily work gives her aren't bad either!
What advice would you give to a woman getting into the trades?
"It's going to be more socially awkward for you because the guys won't know to what level they can joke with you/make fun of you like they do with each other. Know your boundaries, make them clear from the start, and try to be kind when correcting people. They're more likely to listen to you."
Kaleigh W.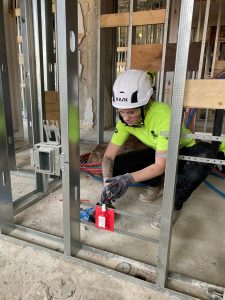 Kaleigh has been in the trade for 9 months as a pre-apprentice. Her first experience with plumbing was in a construction class in high school where they "built a house with Tim O'Brien homes and I loved every part of the plumbing."
Kaleigh likes plumbing because she is always doing hands on work and learns something new every day. She also has the opportunity to work all over Wisconsin.
What advice would you give to a woman getting into the trades?
"Remember who you are and why you chose to do this career. Keep living your dream!"